Image Gallery
Introducing the Icy Dock EZ-FIT MB990SP-B Dual 2.5" to 3.5" SATA and IDE Solid State and Hard Disk Drive Converter. This dual bay drive bracket allows you to use two SATA or IDE SSD and HDD in an internal 3.5" drive bay in most standard cases. Since most cases are not set up to use 2.5" form factor, the MB990SP-B allows you to make a huge upgrade to your system with very little effort.

The bracket will fit most types of cases. Out of the box it can be used in both tool-less and standard cases. The EZ Fit pins on the sides of the bracket fit into most standard mounting holes, and are also removable to use either your case's proprietary mounting brackets, or to use screws for a more secure fit.

The EZ FIT bracket is extremely lightweight and has an open air design for maximum air flow and cooling of the drives.

Most standard 2.5" IDE or SATA drives can be used due to the open back design, allowing use of direct connections to the drive, also giving the user flexibility to mix and match drives.
How to use the MB990SP-B
Simply insert the drive or drives into the front loading slots, close the latch, and it is now ready to be installed in the case. To install, compress the two tabs at the rear, and place in the drive bay. When the tabs are released, the included pins will pop into place into your case's mounting holes, and installation is complete. Some cases use their own drive trays or brackets, or one may want to use his or her own mounting screws. To install the bracket this way, unscrew the gold pins in the mounting hole locations, and the case trays or screws can now be installed.
Compatible Drive Type

2.5" IDE Hard Drive
2.5" SATA Hard Drive
2.5" SATA Solid State Drive
2.5" IDE Solid State Drive
Fits any 9.5mm height drive
Key Feature
* Fits standard 2.5" SATA / IDE SSD and HDD(9.5mm).
* Lightweight constructions.
* For use in single 3.5" internal drive bay.
* Compatible with screw-less type HDD tray.
* Genuine Plug & Play functionality.
* Unique tool-less design for hassle free device and hard drive installation.
* Ideally designed for anti-vibration and heat dissipation.
* EZ Fit pins removable for use mounting screw or proprietary tray use.
| | |
| --- | --- |
| | |
ICY DOCK EZ-FIT MB990SP-B 2 x 2.5" to 3.5" Drive Bay SATA SSD/HDD Mounting Kit / Bracket / Adapter
| | |
| --- | --- |
| Compatible Drive Type : | 2.5" IDE / SATA SSD & hard drive (up to 9.5mm height) |
| | |
| --- | --- |
| Device Fit : | Internal 3.5" device bay |
| | |
| --- | --- |
| Support HDD Capacity : | No Limitation |
| | |
| --- | --- |
| Dimension (L x W x H) : | 143 x 106 x 26 mm |
Product Reviews
January 30th, 2011

Cjefferies

"The Icy Dock MB990SP is an excellent solution for those looking to install 2.5" drives into a desktop, whether it be a hard drive or SSD. Overall the bracket is fast and easy to use - just as it's designed. For $16 it's tough to beat and nice to have around."



http://www.storagereview.com
Thursday, 19 August 2010

Ron Perillo -crowTrobot-

Thursday, 19 August 2010 Ron Perillo -crowTrobot- "The Icy Dock MB990SP-B EZ-FIT Dual 2.5" to 3.5" SATA & IDE SSD/HDD Bracket is in the Mainstream category of HDD drive bays."



http://www.hitechlegion.com
Apr 2nd, 2010
By TweakTown
ICY DOCK MB990SP-B Dual 2.5" to 3.5" SATA / IDE Adapter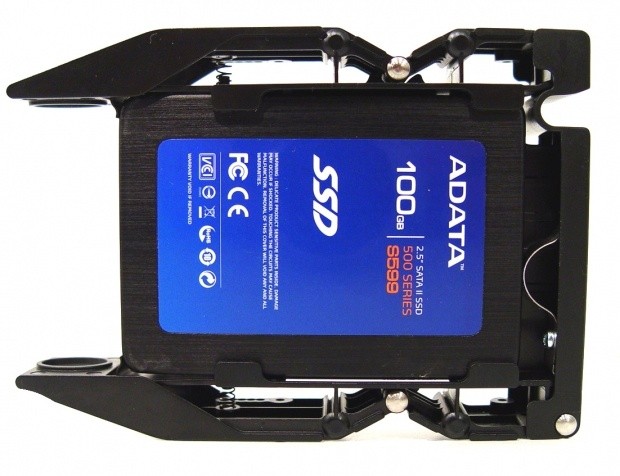 "The ICY DOCK MB990SP-B sites in the sweet spot that will allow you to install up to two SSDs in your system with little effort and is cheap enough to make it a true accessory that fits the definition perfectly. With Intel's latest RST 9.6 driver release more users will feel comfortable using two drives in RAID 0 and the performance is amazing when doing this.
https://www.tweaktown.com/reviews/3214/icy_dock_mb990sp_b_dual_2_5_to_3_5inch_sata_ide_adapter/index.html
May 27th, 2010

Article by: Jackie Mueller

Edited By: Nathan Glentworth

"There are other ways to convert a 2.5" drive to fit in a 3.5" bay, but this is probably the best method I've used so far."



http://www.tweaknews.net
March 24th, 2010

Author: Zahn Funk

Editor: Shawn Knight

"a small price to pay in order to securely locate that expensive new solid state drive in your older enclosure."



http://www.ocia.net
ICY Tips
May 2013

How to Choose the Right 2.5" to 3.5" SSD / Hard Drive Converter?
June 2011

How to setup a RAID in a Small form factor case with
a single 3.5" hard drive bay?
March 2011

MB990SP-B The Best Screw-less
2.5" to 3.5" SATA SSD/HDD Mounting Bracket
for Computer Maker and System Integrator
June 2010

The easiest way to install the 2.5" SSD
or HDD to your Antec, Cooler Master
and Thermaltake ATX system case
MB990SP-B
▲